Music Folder Player for Android released
I've just released the app "Music Folder Player", a folder based player to browsing and listening to music on your device with all the power to create and manage custom playlists.

A music player and nothing else
One of the main problems I find in today's music players is their lack of flexibility and excessive dependence on the metadata of files and other resources that have little or nothing to do with music. On the other hand, many of those who have stayed away from this trend tend to be extremely simple and incomplete. Others simply display annoying ads, hindering the user experience.
If you are looking for a player with access to lyrics, album covers or photos and biographies of your favorite artists, you have found the wrong app. Music Folder Player is not going to synchronize with any external database, it doesn't use internet connection and it will not it scan your system for audio files to organize your collection for you.
I have created this app to regain the simplicity that the most popular players have lost. Music Folder Player has been developed for the purpose of playing your music, which is stored n your device, respecting the structure of your folders while allowing you to create your own playlists.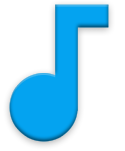 Main Features
Based on your folder system
Tired of the interpretations that other players make of the metadata of your songs? With Music Folder Player you browse music through your folders. You set the order and layout of your songs and records. You can play entire folders even recursively.
Control music from notification bar and lock screen
You don't need to open the app to play another track or pause the player. Your will not even have to unlock it.
Free and without ads
Music Folder Player is completely free and it will not bother you with annoying adverts.
Manage your own playlists
Create a playlist and add all the songs you want, even folders. You will also be able to sort, update them, etc. All this in parallel, without interfering your file system.
Set it up to your liking
Choose the items you want to view, size, playback mode, root directories with all your songs and their layout.
Just music
This app is simple and easy to use. It is intuitive and you will not find great visual effects. Neither you are going to lose in a sea of possibilities, nor in complex configuration options. It also supports all audio formats.
Comments